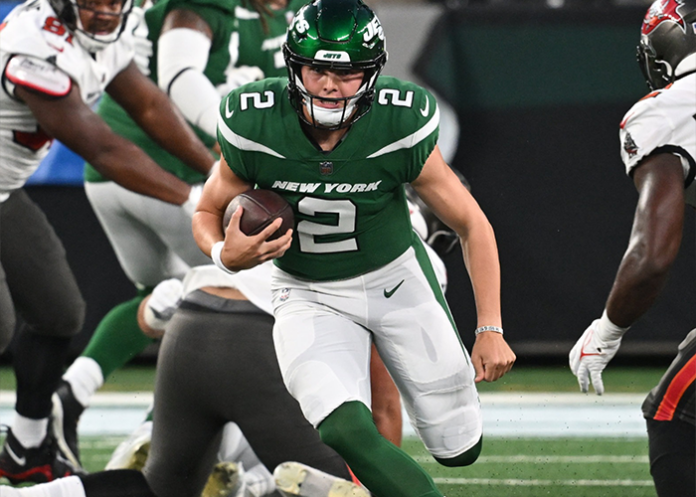 Content available exclusively for subscribers
Please subscribe now to unlock this article!
The Tampa Bay Buccaneers
were mostly throwing short passes led by quarterbacks Baker Mayfield, Kyle Trask and John Wofford.
So perhaps that led to the Jets eventually sitting on the short stuff, and giving up one long deep pass to WR Trey McBride for about 70 yards for a touchdown.
The player he seemed to beat, and was closest to him as he entered the end zone was Sauce Gardner, but without knowing the coverage assignments, I hesitate to blame him.
But some might wonder where the safety help was.
One New York TV reporter said while watching practice, "The only area of concern with this team is the offensive line."
I would throw in safety.
Hey, it could turn out to be fine, but it's something to keep an eye on after the Chuck Clark injury . . .
I don't ask a ton of questions these days because all the press conferences are broadcast to the public, so the quotes are often out before you even write a story.
Also, as the late Paul Needell used to say, "I don't like asking questions in front of the class." Meaning other reporters. In other words, everyone gets the quote, so why put out a concept that is your own intellectual property?
But every once in while, with society getting so soft, and most hard questions going by the wayside, it's time to jump in..
On "Hard Knocks," which I'm not watching, because it's time for "A little less conversation a little more action" to quote Elvis, after the Jets have missed the playoffs 12 years in a row, so not interested in reality shows about them. As Al Davis used to say, "Just win baby." The Jets are a football team, not MGM Studios.
But obviously, I hear about things that are said on the show that make news.
Headline, NESN, "Jets Coach Mocks Popular Patriots Mantra On 'Hard Knocks' "
"It's the mantra of our defense: Make a motherfer earn every yard," Ulbrich said. "Do my job, is that good enough? F no. That's the rest of the NFL, isn't it? 'Do your job. Do your job.' F that. Do your job, then now what? If we all do our job and a fing little bit more, that's 22 (players) playing."
Bill Belichick often says to his players, "Do your job."
So people viewed this as Ulbrich taking a shot at the Patriots. Ulbrich denied he was doing that.
"First off, it had zero reference to the Patriots," Ulbrich said. "If anything, it's paying homage to the Patriots."
Perhaps it should have been cut out of the show since it was going to be perceived as a shot . . .
One thing about Will McDonald: With his speed and athleticism, he's an ideal candidate to drop into coverage from his defensive end position perhaps more than any other Jets ends . . .
Watching today's Jets-Buc practice, Tampa Bay's QB situation has to be a concern to the team's brass. Aside from that deep throw by Trask against a blown coverage, not much doing in the Bucs' passing game today. Trask had a couple of passes where he stared down receivers and was nearly picked both times. Mayfield seems to have a problem seeing from the pocket, perhaps due to his height. He threw a deep pass down the left seam to Mike Evans where it looked like he had a hard time seeing, and kind of just chucked it downfield, and it wasn't even close. This team could be pretty bad this year . . .
Practice ended with a Zach Wilson scramble. A few plays before that he scrambled as well. Kinda wasted reps for the Jets' passing offense and the Tampa Bay defense in a training camp practice.
August 16, 2023
Premium will return by 9:30 pm on Thursday.