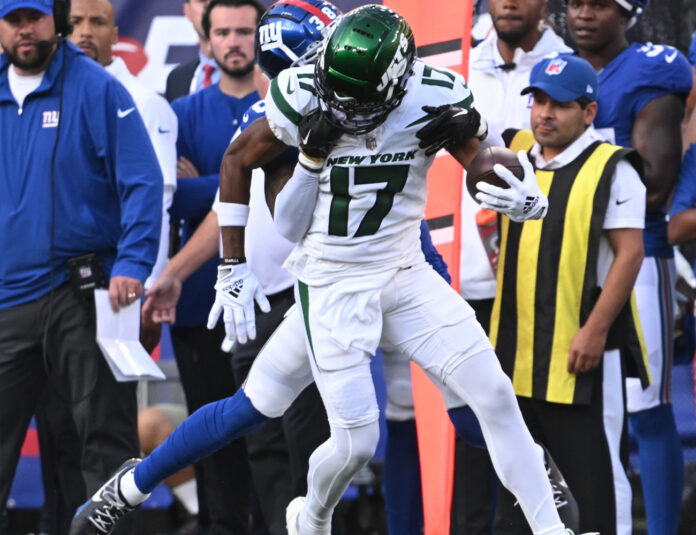 Content available exclusively for subscribers
Please subscribe now to unlock this article!
In the locker room after the Jets-Giants preseason game, cornerback Jimmy Moreland had a brace on his right wrist/hand.
Whatever the injury is, it landed him on injured reserve.
Moreland is a journeyman who played with Washington, Houston, Philadelphia and then was on the Jets practice squad last year. He's from Belle Glade, Florida and graduated from James Madison University . . .
Defensive tackle Bruce Hector had two sacks in the Jets preseason game against the Giants, but honestly, there was nothing he could do to make the team . . .
It's funny. Sometimes you can tell what kind of shape a player is in street clothes better than in uniform.
Seeing Aaron Rodgers after the Jets-Giants game, in street clothes, it's pretty clear he's in fantastic shape.
Between his work with the Jets, and his trainers in Malibu, the guy takes great care of himself . . .
Running back Xazavian Valladay, who the Jets signed to their practice squad after a stint with Pittsburgh, is a good fit for the Jets zone. He is very decisive cutting up the field without a lot of dancing . . .
In a very ho-hum press conference today, there was a question about how talented the Jets defense is.
"There's a style that we want to play, there's a mindset that we want to play with, and it's bringing in the people you feel can execute that style and mindset," Saleh said. "I love that group. They absolutely have the mindset. They come to work every day and they do everything they can to maximize who they are as individuals, every day they walk into this building."
Let's see what this defense does against Josh Allen the Buffalo Bills in the opener. I happen to be watching a replay of the Chicago Bears-Buffalo Bills pre-season game on NFL Network as I write this, and Allen took them right down the field on a TD drive to start the game.
There is no doubt the Jets have a lot of talent on defense, much more than when Saleh took over as coach of the Jets. And there is no doubt they are tough as boot-leather and play very hard as a group, great collective motor. However, the question I have is about the instincts of certain players in key roles. The Jets' defensive coaches like to talk about the importance of "strain." There is no doubt "strain" is important, giving everything you've got at every moment. But instincts are just as important as "strain."
There are a few positions where the instincts could have been better last year, sometimes putting guys out of position.
So before we laud this defense for their talent, let's see how they play as a collective unit in regular season games, and let's see how some players who displayed some suspect instincts last year, fair this season in real games.
Training camp ended with Aaron Rodgers hitting a wide-open Garrett Wilson on the right side of the end zone.
Remember, this wasn't early in camp, this was at the very end.
So, my point is simple. Yes, this defense is very talented, but how will they play together, especially in coverage, and how about the instincts of some of the guys on the second and third levels?
August 30, 2023
Premium will return by 9:30 pm on Thursday.