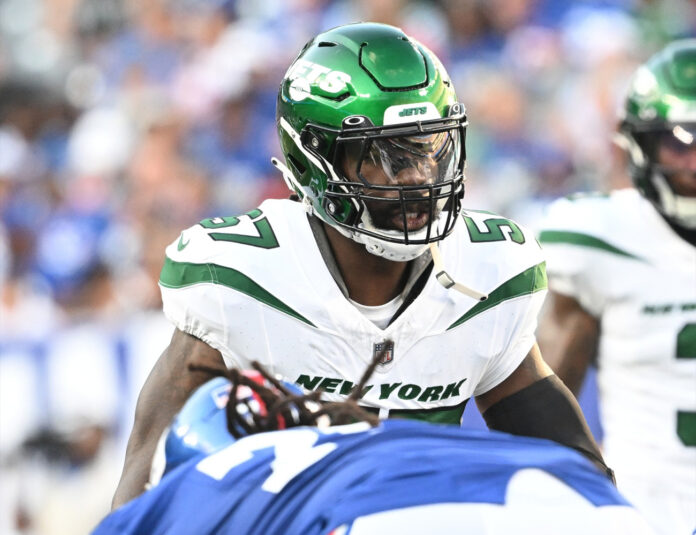 Content available exclusively for subscribers
Please subscribe now to unlock this article!
Headline – "Aaron Rodgers recounts UFO encounter on the final episode of 'Hard Knocks'"
Robert Saleh often says "Make the main thing the main thing."
"This group is focused," tweeted Jets owner Woody Johnson.
We will see on Monday . . .
Want to revisit this blockbuster quote for a second.
"I'm very confident," Jet cornerback D.J. Reed said. "I think we have the potential to be the best defense in the NFL. Honestly, I think we can be historical, not just the best defense in the league, but I think we can be a historical defense like the '85-'86 Bears and the L.O.B. (Seahawks' Legion of Boom) in 2013. I think we can be that dominant if we just put all the things together."
There is no doubt they are loaded on the defensive line. That is indisputable.
But what do they have at linebacker?
The echo chamber, the stenographers, will tell you they are strong there.
But are they?
C.J. Mosley is a solid player. There is no doubt about it, but a $17 million a year linebacker at that point? Here is something I wrote in the last issue that might have traumatized some people:
"Recently, the Cincinnati Bengals' talented inside linebacker Logan Wilson signed a four-year extension for $37.3 million with $14 million guaranteed. So the yearly average is around $9 million per season. Wilson is a very good inside linebacker, a tackling machine, who had 123 stops in 15 starts last year, missing two games due to injuries. This past off-season, the Los Angeles Chargers signed Eric Kendricks to a two-year deal for $13.3 million contract with $6.8 million guaranteed. Kendricks had 143 tackles in 2021 (in 15 games) and 137 last year. Also this off-season, the Miami Dolphins signed a terrific run-and-hit linebacker, David Long, to a 2-year deal for $11 million, with $5.5 million. A couple of years ago, New Orleans Demario Davis, who Jets fans know well from his time with Gang Green, signed a 3-year deal, $27 million with $18.4 guaranteed.  The point is, many teams feel you can find inside linebackers, who can do a heck of a job for them, for reasonable money. For some teams, it's a non-starter backing up the Brinks Truck at this position. For most teams, it's not a position you break the bank on. You can fill the position sufficiently for reasonable money. Hey some fans might not know a ton about Wilson, Long and Kendricks, but they certainly know Davis, who makes an average of $9 million per. Do you think Mosley is better than Davis? Perhaps not. You could argue they are commensurate talents."
Mosley is a good player and leader, and very good against the run, but limited in pass coverage.
Speaking of pass coverage, Quincy Williams had one PD and no picks last year, so It was surprising he didn't play more in the preseason to work on his pass coverage, but he was treated like his brother, and mostly watched for the sideline during preseason. Playing Quinnen very little made sense, but Quincy needed the work. Do you have any idea how much of an issue it is when a speedy linebacker, with a lot of coverage responsibilities, has 1 PD and no pick in 15 games?
The third linebacker will likely be Jamien Sherwood, who has a lot of potential. He's smart, tough and driven. However, if any of us were to sit here and pretend we know how he's going to fair as a first-time NFL starter, we'd be lying. Nobody knows. It's a gray area right now. We will find out soon.
The '85 Bears and "Legion of Boom" had an outstanding linebacking corps.
Maybe the Jets will have one this year, but based on the anecdotal evidence we've provided here, do you think that is a certainty?
September 6, 2023
Premium will return by 9:30 pm on Thursday