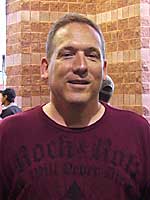 Hello Jets Nation,
Due to philosphical differences, Scout is going in a another direction with the Jets website. That is certainly their prerogative.
To put it in football terms, they were looking for a zone corner, and I'm a man-to-man guy.
So if you have any website subscription questions, you will have to reach out to the people at scout.com.
We are very excited about this new site. Actually, excited might be an understatement.
It's going to be very simple. I'm going to pour my heart and soul into this new site and provide you tons of free and premium content about the Jets on a daily basis. This will be my 17th year covering the team, and I'm more energized than ever before. Win or lose, this is going to be one wild year with "Hard Knocks", all the new marquis players, Mark Sanchez in his second year and Rex being Rex.
On top of all the inside info we will provide, along with having great message boards (thanks to you guys) we will also have an exciting new element – daily audio and video contributions from Pigskin DePalma on Sportscastlive. We are looking forward to that.
We think you are going to love the new site.
As always, thanks for the support.
Dan Leberfeld