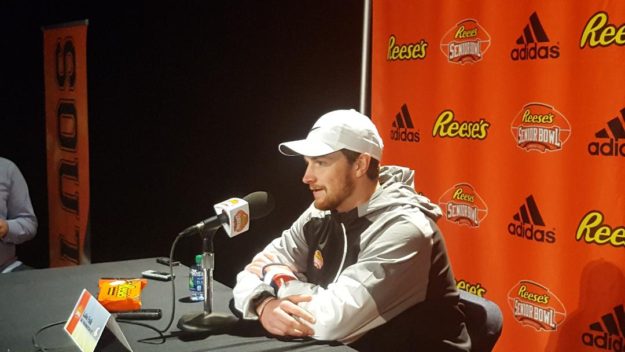 Mobile, Alabama – With all the attention seemingly on Josh Allen and Baker Mayfield at the North's Senior Bowl practice on Tuesday, this quarterback quietly looked pretty good.
Washington State quarterback Luke Falk did some good things on Tuesday.
Falk threw a real nice crossing route to Boise State wide receiver Cedrick Wilson for a long gain.
He also looked good going through his progressions on a check-down to ASU running back Kalen Ballage in the right flat, smoothly turning his head after surveying the field.
Falk also displayed poise and composure addressing the media about the suicide of former teammate Tyler Hilinski.
"I really want people to start talking about suicide," Falk said. "It's the second-leading killer in men from 18-45 years old and I don't think we're doing enough to talk about it and get those people help. I think us as men really suppress our emotions and feel like we can't express what's really going on and how we feel. I think we need the resources and trust that we can do that."
Falk is the most prolific passer in Pac-12 history with 14,481 yards and 119 touchdowns.
If the Jets wait until after the first round to pick a quarterback, Falk could be a consideration.
*****The new issue of Jets Confidential Magazine is on news stands. JC's 10-point plan on how the Jets can become a playoff team; a scouting report on the draft's top quarterbacks and tons of Whispers. Pick one up to today. To subscribe to this monthly must-read for Jets fans, click below, or call 1-800-932-4557 (M-F, 9-5).
---