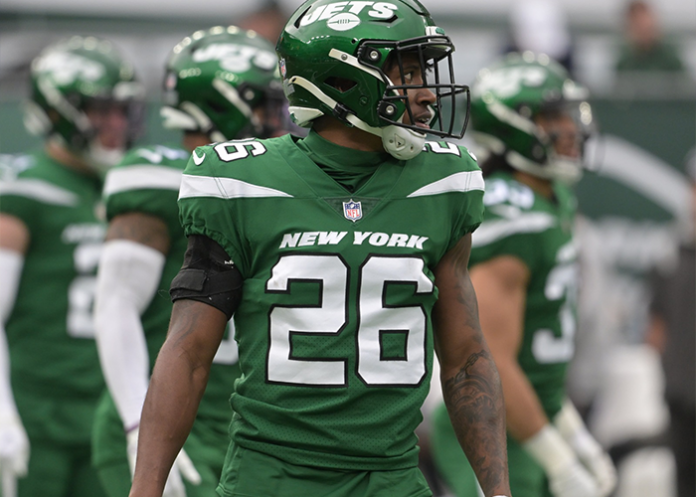 Content available exclusively for subscribers
Please subscribe now to unlock this article!
Duncan SC – It was really remarkable practice performance.
Quinnen Williams dominated the Carolina Panther interior lineman, especially guard Brady Christensen, one of Zach Wilson's O-Linemen at BYU.
It was almost embarrassing from a Panthers-standpoint how much time Williams was spending in their backfield.
They had no answer for him.
In the spring, during the protracted contract negotiation between Williams' agent and the Jets, I wrote a lot about the fact that Williams deserved a huge deal, but not necessarily more than guys like Jeffrey Simmons and Dexter Lawrence.
It had nothing to do with his pass-rushing, which is superb. He's one of the best interior pass rushers in football, as he displayed today at Wofford College in Spartanburg, SC.
It was about his run defense, which was a little up and down the last few years. We will see what he does on this front in the real tackle football games.
But as a pass rusher, beating guards and centers into the gaps off the snap, he is flat-out superb, as he showed today . . .
You could make a strong argument, in a world sans confirmation bias, that the #2 QB spot should be an open competition between Wilson and Tim Boyle.
Today's practice ended with these two plays:
1)Wilson throwing low to WR Jason Brownlee on the short right side. The pass was incomplete. This was a case of poor throwing mechanics.
2)Wilson throwing a pick over the middle to linebacker Kamu Grugier-Hill. I criticize some in the media a lot for making too much over training camp picks because there is a lot of experimenting and chemistry work going on this time of year, but that is more on passes like fades and throwing guys open. This was a bad pass whether it was in OTAs, camp or the regular season. He stared down his primary receiver, and the veteran linebacker read his eyes and picked him off.
Where Wilson was picked is kind of irrelevant.
"It's not where they are picked, it's how they play," said one former NFL GM a few years ago.
And right now, based on camp, and how Wilson played last season, Wilson and Boyle should have an open competition for the #2 job . . .
Watching Bryce Young today against the Jets, I'm a little surprised he went #1 overall in the draft.
Don't get me wrong, he's a good player, but the concept of picking a 5-10 QB first overall in a draft is odd to me, especially since he has a good, not great arm.
If a guy who a shorter QB, don't you want him to at least have a howitzer to help make up for that? I noticed that on the all-important deep out route, his throws lacked the requisite mustard, and took a while to get there. This was the case on a deep out that Jets safety Tony Adams broke up.
He also sailed a pass over the head of receiver Terrace Marshall on a deep crossing route, and it seemed like the pass might have sailed because of his height, and the fact that he had throw over linemen.
Once again, I think he's a good player, but to pick a QB #1 overall who is 5-10, is something I'd have a hard time doing.
I hope I'm wrong about him, because he's a hell of kid . . .
Bryce Huff was consistently taking the edge today against Panthers' offensive tackles.
He's been the best edge-rusher on the field for the Jets this summer . . .
Brandin Echols pick six on Young was the highlight play for the Jets against the Panthers today. He jumped the route, tipped the ball, and then caught his tip and was off to the races.
The Jets have good depth at corner, something many teams don't have.
August 9, 2023
Premium will return by 9:30 pm or sooner on Thursday.