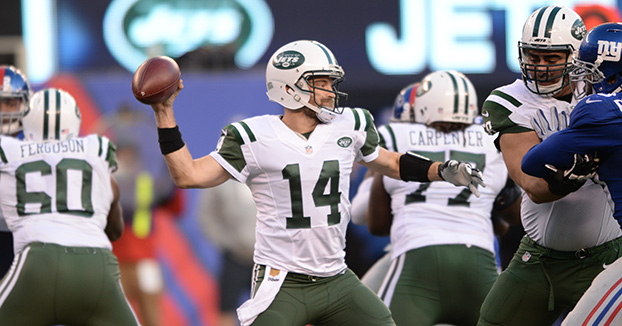 Q)Mood in the huddle late . . .
Fitzpatrick: There was always a great belief in the huddle, great belief on the sideline that we could come back and take this thing. I thought we did a great job keeping our poise in the second half, not having a lot of possessions on offense but taking advantage at the end and making plays.
Q)On how dumping to Bilal Powell alleviated pressure . . .
Fitzpatrick: They did a really nice job in the first half with their scheme and getting to me with different pressures, it was tough to get a read on where they were coming from, so they did a nice job. We counteracted a little bit with Bilal and the way he was able to make some plays. He stepped up big time.
Q)Four straight passes to Eric Decker . . .
Fitzpatrick: (Decker) is obviously a seasoned veteran and kind of knows the soft spots just as a quarterback would know the soft spots of some of those zones and was able to do a really nice job in terms of finding them and us being on the same page.
Q)On the game-tying touchdown to Brandon Marshall . . .
Fitzpatrick: That dude he makes my job so easy. We got single coverage, which we put him to the wide field and basically just threw it up and said Brandon make a play. (He) came down with it, made it look easy. It's not easy to do, but he made it look easy.
Q)When was the last time you were in a similar post-season situation?
Fitzpatrick: I don't know this late in the year (I've ever been) in this situation in terms of where we're sitting at as a team and a type of win like that. So this late in the year, I've kind of never, other than Christmas, December is never really a fun time for me for some reason (joking).
Q)Could this win galvanize the team?
Fitzpatrick: Hopefully you just try to build off of the last game to the next one. We go out and lay an egg next week, then this feeling goes away and you forget about it. We've got to try to capture this momentum and ride it into next week and just continue to play better as a team.
---