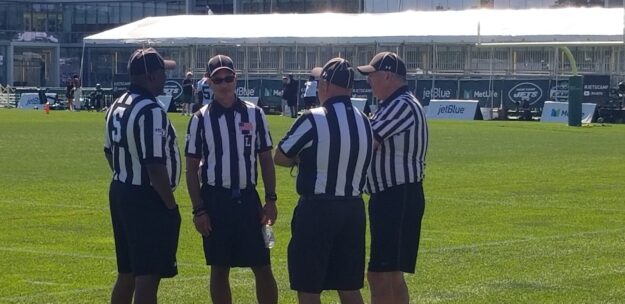 Content available exclusively for subscribers
Please subscribe now to unlock this article!
Max Mitchell got a real trail-by-fire today . . .
He matchup up quite a bit with veteran defensive end Carl Lawson.
Mitchell, who has been getting work at both tackles spots, spent a lot of time at left tackle today with all the injuries at that position (Mekhi Becton, Chuma Edoga) and recently-signed Duane Brown not practicing yet.
Early in practice, Lawson beat Mitchell to pressure Joe Flacco.
He seemed to settled down after that, though I will leave the grading to John Benton.
It goes without saying that Mitchell didn't face a lot of pass rushers like Lawson against conference foes like Lousiana-Monroe, South Alabama and Georgia Southern.
So these practices and preseason games are certainly an eye-opener for him.
While he's filling in at left tackle in practice, his long-term home will probably be on the right side . . .
Cornerback Rachad Wildgoose flashed some in practice today.
He had a big hit on WR Jeff Smith after a short catch, he had a run stop that might have been for a loss if there were tackling, and he had good coverage on TE Jeremy Ruckert on a bootleg right, giving the QB nowhere to throw.
Wildgoose was a 2022 sixth-round pick of the Bills, who the Jets signed off Buffalo's practice squad in November of last year. He could provide good depth in the cornerback room . . .
Denzel Mims had an important catch today in practice.
He hauled in a contested pass on a fade in the end zone from Mike White, grabbing it away from two players in tight coverage – safety Elijah Riley and cornerback Luq Barcoo.
The reason this is important is that Mims won on a contested pass.
Something to consider about Mims: He's always been good at going up and grabbing high passes. He can do that. But that is different than a contested pass.
Before the draft, NFL Network draft guru Lance Zeirlein wrote about Mims –  "He doesn't consistently compete and outwork opponents for positioning on contested catches. Despite size, gets bullied at the catch point; history of drops and poor success rate on contested catches."
So that is the reason this catch means more. He pulled the ball away from a couple of defenders. This is an area he needed to improve. Jumping up and grabbing a tall pass is one thing, pulling it away from defenders is another . . .
Corey Davis had several nice grabs today. For some reason, he seems to be more productive when Joe Flacco and Mike White are pulling the trigger.
Davis and Zach Wilson often aren't on the same page for some reason . . .
Ian Rapoport announced: "Zach Wilson is recovering nicely and still has a shot to play in Week 1 against the Baltimore Ravens, per a source informed of the situation."
It would be shocking if he played in Week 1. The Pollyanna week one "shot to play" stuff probably came from the player's agent. These insiders often carry water for agents.
Also, one of the last glimpses we saw of Wilson as a player was him throwing into triple-coverage, getting picked off by linebacker Kyzir White.
"That interception to White was really high-schoolish," said former NFL GM Mike Lombardi on VSIN. "It was predetermined where he's going to throw and he makes a horrific throw and throws it into a crowd. It was non-chalant. Aside from the injury that he's going to come back from, that (throw) was more concerning to me."
"That was awful by Wilson," said Eagles preseason TV analyst Ross Tucker after the play.
That play made some wonder if he's progressed from last year. Yes it was one play, but it was a really bad throw and decision.
So why would you rush him back?
Let him take his time, get the knee strong, watch Flacco go through his progressions and operate the offense like a pro's pro, study a lot of film like the White pick, and come back stronger physically and mentally . . .
Real NFL officials (pictured above) were officiating Jets practice today.
August 16, 2022
Premium will return by 9:30 pm on Wednesday.